San Miguel Produce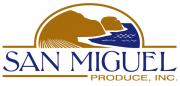 Consultants, Agencies, Brokers & Freelancers
Employer Summary
Welcome To San Miguel Produce...

San Miguel Produce provides fresh, nutritious and delicious leafy greens in fresh-cut packaged and bunch greens, in the labels of Cut 'n Clean Greens and San Miguel Produce. In addition, the company offers a full line of organic, packaged and bunch greens, in the Cut 'n Clean Greens Organic and in San Miguel Produce labels.

Located on the coastal plains of Oxnard, California, the people of San Miguel Produce, Inc. have been farming for three generations. The company has created a unique partnership with friends and family -- all sharing a passionate spirit and love for the land and its fruitful bounty. The people of San Miguel Produce, Inc. -- creators of Cut'N Clean Greens -- live, work and breathe greens exclusively, and have focused all of the company's resources on Niche Specialty Greens.

In 1996, company founders took their appreciation for nutritious vegetables and their history and professional expertise for growing superior vegetables in California and combined them to create the very best, freshest and most nutritious varieties of packaged greens in North America. Over the years, the company has earned the reputation for having the very best quality, consistency and year-round availability of leafy greens.
History