BC Tree Fruits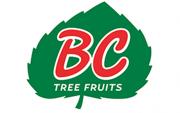 Consultants, Agencies, Brokers & Freelancers
Employer Summary
BC Tree Fruits is part of the Okanagan Tree Fruit Cooperative, owned by over 580 local grower families. They nurture the orchards to create the best produce possible, while we provide expertise in promoting, packaging and transporting the BC Tree Fruits brand. This includes assistance with sales, marketing, accounting, technology, shipping and regulation compliance.

Since 1936, we've helped to promote not just British Columbia's amazing apples, but also pears, cherries, apricots, peaches, prune plums, nectarines, and even some fruits that don't grow on trees, like grapes and blueberries.

The tree fruit industry in British Columbia's interior represents more than 800 growers operating orchards that generate $130 million in revenue, contribute $900 million in economic activity and directly employ 1,500 people. In addition, the industry provides economic spin-off to partner industries such as transportation, food processing and retail. Apples make up about 80% of our production with 98% grown in the Okanagan Valley.

Tree fruits may be thousands of years old, but how we grow them is state of the art. For example, our growers are recognized as North American leaders in the adaptation of modern technology. In the past, orchards had big trees far apart from one another. Today most farms in the Okanagan have switched to high-density plantings. That means smaller trees, closer together. The result? Earlier fruits, a larger yield and an easier harvest. Smaller trees also allow for more sun. So the fruit is as sweet as summer itself.

We also work together with the New Varieties Development Council to bring the latest, greatest fruits from our growers to the world, like the truly amazing Ambrosia apple.

And last, but definitely not least, we collaborate regularly with the Pacific Agri-Food Research Centre. Located in Agassiz and Summerland BC, they study ways to keep plants healthy by protecting them from insects and a wide range of bacteria. They also research innovative plant production techniques and develop new, delicious fruit varieties – created specifically to thrive in our marvelous, magical climate.