Acosta Sales & Marketing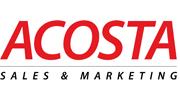 Employee Summary
Consultants, Agencies, Brokers & Freelancers
Employer Summary
Acosta Sales & Marketing is a leading full-service sales and marketing agency providing outsourced headquarter sales, retail merchandising, marketing, shelf-planning, plan-o-grams and customer support services to consumer packaged goods companies. Headquartered in Jacksonville, Fla., Acosta has approximately 20,000 associates and operates throughout the U.S. and Canada.
Specialties

At Acosta, we grow leaders who are committed and dedicated to our clients by delivering marketing solutions that increase sales. Part of our success comes from our unique culture, which embodies our core values and principles. Acosta's solid values represent who we are as a company and shape our interactions with our customers, clients, the community, and each other.

Ultimately, it's our people that add value to our company.
History